Golf Course Fleet Information
Golf Course Fleet Information
Gas or Electric, New or Used – Masek Golf Car Company has the Golf Course Fleet you are looking for!
– Joe Masek
Golf Course Fleet Sales Manager

Montana, Wyoming, Western Nebraska

Justin Allred

(308) 765-2836

Justin@Masek.com

District Sales Managers

Western Kansas & Central Nebraska

Adam Kampbell

(308) 765-5040

Adam@Masek.com

Eastern Kansas, Kansas City, and Missouri

Andy Degener

(816) 663-0667

Andy@Masek.com

Colorado, New Mexico, El Paso

Masek Rocky Mountain Golf Cars

Masek Golf Car Company is the "Largest Golf Car Distributor In The United States"
Our distribution territory for Yamaha Golf Cars covers parts of eight states. Our territory is so large, in fact, that the driving distance rom our northernmost golf course in Montana to our southeasternmost golf course in missouri is over 1,750 miles! That's the same distance as driving from Cheyenne, Wyoming to New York City!
How do we service such a large area?
Education
Golf Course Customer Service is the heart of our business. We go to great lengths (no pun intended!) to make sure that every single one of our golf course customers recieves superior service. One of the most cost-effective methods for golf courses to service their golf car fleet is by participating in our Service Schools. Often, golf courses will have one or more staff members who do primary golf car maintenance on the fleet. Regular preventative maintenance in inexpensive, easy, and goes a long way towards unsuring your golf course fleet is in the best condition possible. Masek Golf Car Company hosts regular Service Schools all around our territory for the purpose of training golf course staff and dealer service technicians in golf car service and maintenance. These schools are free to attend, and are intended to help customers take care of most service issues that they will see in day-to-day golf car fleet operations.
Extensive Dealer Network
Masek Golf Car Company has spent many years cultivating a wide dealer network across our territory. These dealer partners are independent businesses that we work with to provide fleet service and sell retail golf cars across many areas of our distribution network. To locate a dealer near you, check out our
Dealer Locator page here
!
Traveling Field Service Technicians
In addition to a wide network of dealers, Masek Golf Car Company also has remote Field Service Technicians in Colorado, Montana, New Mexico, and Kansas City. Our traveling Field Service Technicians are Masek employees, and they are experts in their craft. They travel with parts and tools to our golf course customers to perform service and repairs on the spot. Most repairs can be made on-site and quickly return cars to service. Our Field Service Technicians can also train Golf Course staff in individualized Service Schools at your facility, on your timeframe. Our Field Service Technicians also can faciliate a Service Contract, where we add your course to our regular service schedule and perform preventative maintenance ourselves on a rotating basis.
The Most Experienced Golf Car Technicians In The Country
For more extensive or complex repairs, we are able to transport cars to our in-house service centers, where our talented staff of golf car technicians have years of experience in repairing golf cars.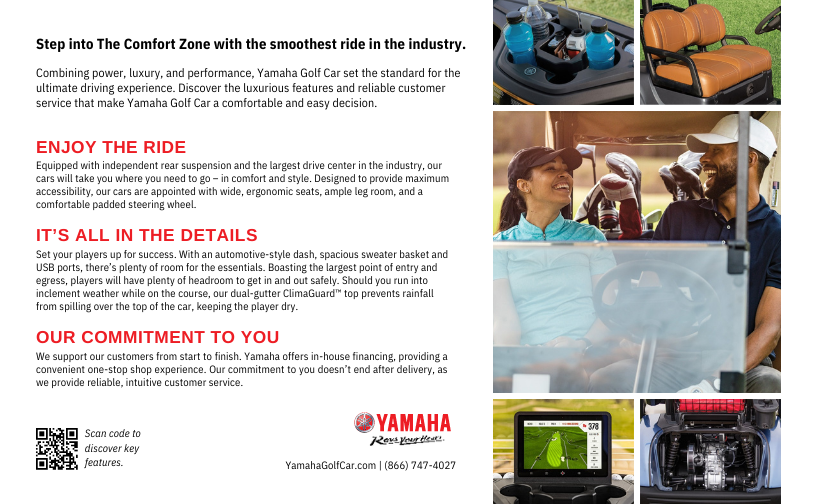 The Comfort Zone
The Yamaha Drive2 QuieTech GAS
The Yamaha Drive2 PowerTech Lithium IRS
YamaTrack - Yamaha's GPS Solution